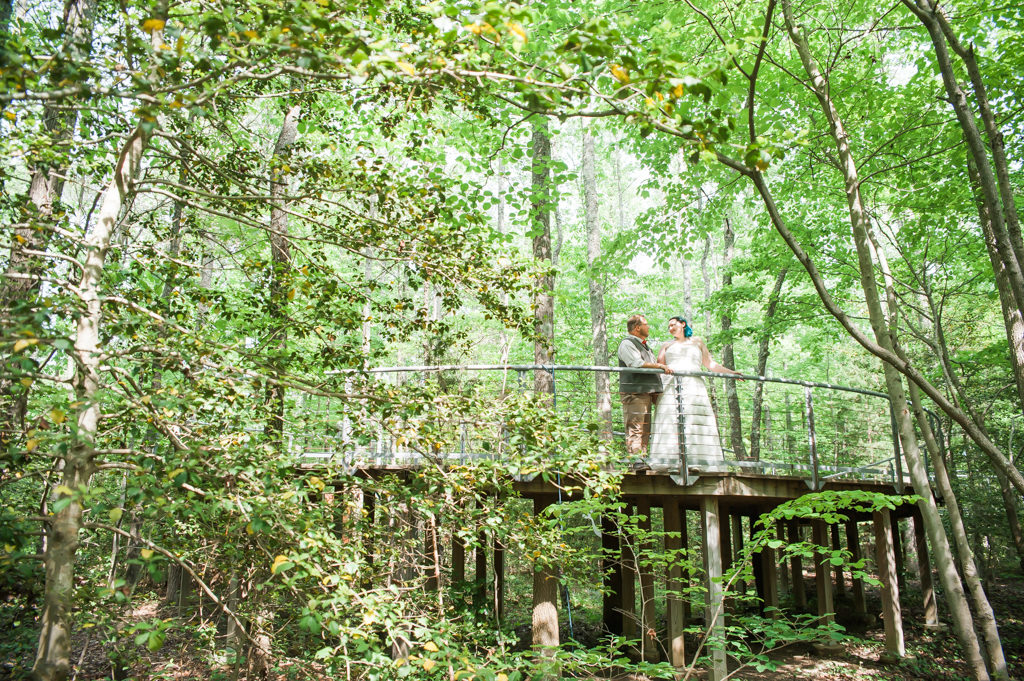 Theresa & DJ's Enchanted Calvert County Wedding was one event to remember.
The pair were married in a lovely wooded area surrounded by beautiful works of art at Annmarie Sculpture Garden & Arts Center in southern Calvert County.
Their outdoor event included the serene natural elements of the gardens mixed with the artistic sculptures, such as the circular rock formation, reminiscent of Stonehenge, where their ceremony took place. The reception was in the middle of a serene patch of trees amongs wooded Paths, where you could find Fairy homes, Troll's Treasure Troughs, and Gnome gardens adding a magical element to the scene. To push things even further, The theme from The Princess Bride was gently played as Therese walked down the aisle to meet her groom.
After the couple said I do, guests were invited to a cocktail hour on a wooden walkway that overlooks the tranquil woods.
The reception after party was held just a few feet away where people ate delicious brisket and turkey carving's along with pasta dishes under a tent canopy.
The couple even incorporated their love for the prehistoric era with miniature dinosaurs placed at every table. After all, DJ is a paleontologist!
We had a wonderful time spending the day with this fabulous couple! Congratulations, Theresa and DJ!
Theresa & DJ's Enchanted Calvert County Wedding
To learn more about our photo sessions visit our FAQ page. If you'd like to book a photo session with Love Charm Photo, please send us a message or call us at 301-848-0020. We'd love to chat with you! Thanks so much for visiting our site!
All Photos Copyright © Love Charm Photo. All Rights Reserved.