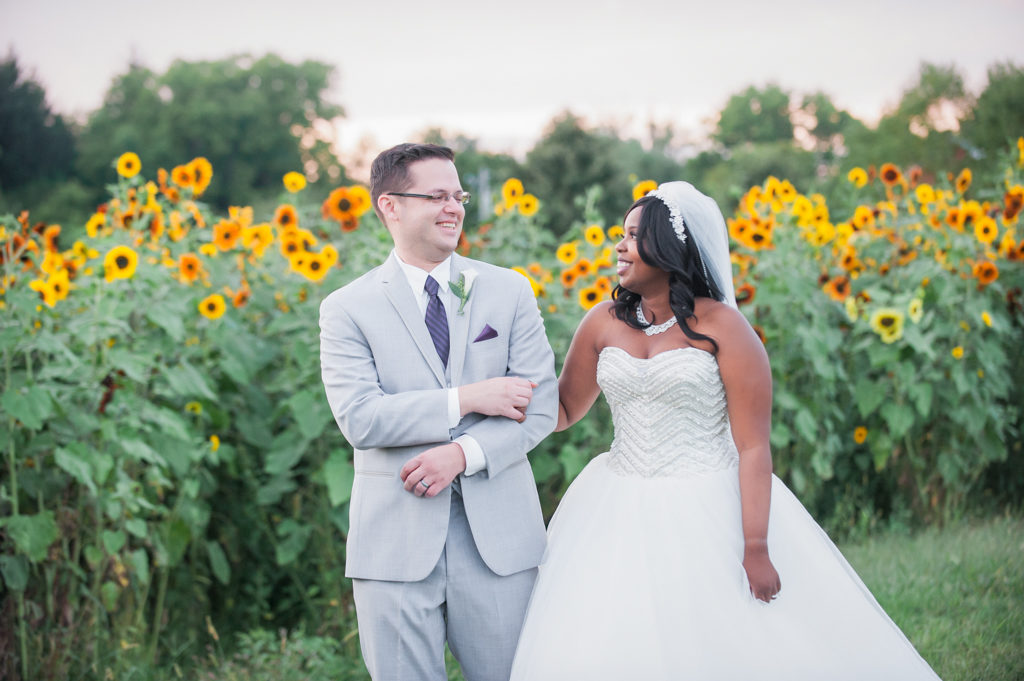 Precious and Dan's Maryland Vineyard Wedding: Precious and Dan married in September in a gorgeous vineyard in northern Maryland. Big Cork Vineyards was the perfect backdrop for their sweet ceremony and the weather couldn't have been better. At the beginning of the day the clouds were looking a little gloomy and we were worried that it would rain. However, as soon as we arrived to the venue, the sky cleared up!
Precious and Dan love their family immensely. It was no surprise that as we walked into the preparation location we were greeted by smiling parents, aunts, siblings, nieces, and nephews. And the kids were super adorable! They were eager to show us around and express their interest in what was happening in every room.
The ceremony took place in the open, right next to green, symmetrical vines. Precious and Dan exchanged sweet vowels and performed a sand ceremony. Cheers filled the air when they were pronounced husband and wife.
What would be a Maryland vineyard wedding be without pulling the couple in the vines as well as an adjacent sunflower field for some photos? Watching  Dan and Precious walk through the green and yellow flowers was delightful!  Then at sunset, the sky was a fiery-red spotted by fluffy clouds. Seeing Precious' excitement from the view of the evening sky was endearing.
The father of the bride came to the wedding all the way from Zimbabwe, Africa. The relationship between this father and daughter was sweet and harmonious. When he gave his speech at the reception, everything he said was so heartfelt. It was obvious how dear his Precious is to him. It is special moments like these that make us so privileged to be wedding photographers and surrounding by families that love each other so much.
The teenage family members were in charge of DJing during the reception They played many modern tunes and everyone seemed to love it, especially the children. They danced with barely any breaks. The fun party ended with a sparkler exit under the stars (despite the wind) and Precious and Dan waving goodbye from their chauffeured  car. What an amazing night!
We wish Dan and Precious all the best. Thank you for making us part of your special day.
 Precious and Dan's Maryland Vineyard Wedding
Thank you to the following vendors:
To learn more about our photo sessions visit our FAQ page. If you'd like to book a photo session with Love Charm Photo, please send us a message or call us at 301-848-0020. We'd love to chat with you! Thanks so much for visiting our site!
All Photos Copyright © Love Charm Photo. All Rights Reserved.