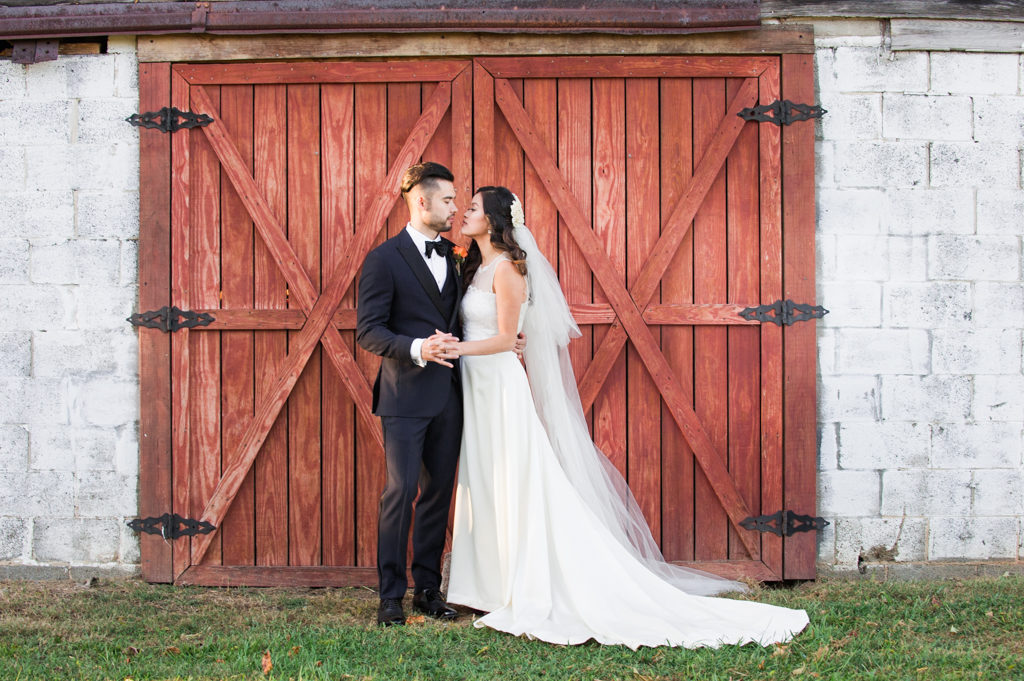 Taking place at the gorgeous Fairview Farm, Joey and Victoria were married. With any couple it is an honor to be their wedding photographer, but with Victoria & Joey's Fairview Farm Wedding it felt just a little extra more special. Alie has known Joey for many years as he was a close classmate of hers in high school. His mother is also a very close family friend so this event was very dear to us.
It was our first wedding at the new and very popular barn venue in the Virginia countryside. As soon as we arrived, we knew the day would be perfect! The weather was an excellent seventy and the site was lovely.
Every bride has a few family traditions that she wants to bring to her wedding day. Victoria's sweet gesture was to wear her mother's timeless wedding dress for her own big day. It's was a one-of-a-king classic, vintage dress so special that Victoria and her sisters made a pact to each wear it. So far, Victoria is the second daughter to do so. No matter how the gown had been hemmed repeatedly, nipped in, or let out, the dress stood the test of time – gorgeous and priceless.
The mens' cave where the groomsmen prepared was a room filled with coca-cola vintage decor. The groomsmen were all so supportive of Joey, helping him with day-of duties and arrangements. Then, like most groomsmen, they celebrated with a very deserving shot of whiskey!
The couple chose to do a first look and fully embraced the farm setting. Standing next to the barn, riding in the vintage trucks,  and crafting a rustic celebration personal to them. It was so cute to watch the couple interact. Victoria's smile is the pure definition of someone in love.
They married right in front of the rustic barn, the centerpiece of the farm. We took the bridal party to another section of the property for photos and returned to a waiting celebration. There was quite the dance crew at the reception- almost everybody joined the fun, exciting dance floor. The night ended with a sparkler exit and a new husband and wife.
We wish Joey and Victoria many years of happiness and laughter.