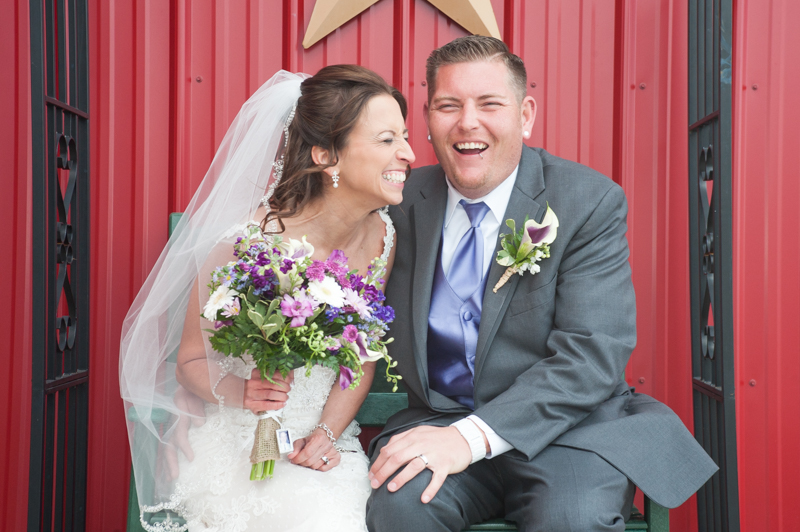 We are excited to share Laura and Jeff's Southern Maryland wedding that took place at The Belmont Farm in Clements, Maryland.
The morning of Laura and Jeff's wedding, we woke up to see snow outside. SNOW! In April?!  We were shocked, but thankfully the sun came out just in time! Hair and Make-up artist Shanna, from Hair For A Special Affair, did an amazing job with the all the ladies' hairstyles, and Crystal Wood, from The Hair Mill, topped off the looks with a beautiful make-up application. Jeff opened a gift from Laura and was surprised with a stylish watch, while Laura received a timeless Tiffany's bracelet from her soon-to-be hubby.
By the time the ceremony got underway, all the snow melted but it's chilly temperatures still lingered. Everyone had to stay inside for the evening, however, the room was cozy and filled with warmth. The ceremony was the sweetest, plus it was officiated by Jeff's mother, which made it all the more meaningful.
For their first dance, Jeff surprised Laura with a song (that Jeff co-wrote) performed by a local musician Josh Willis. Laura was super stunned and so happy!
This wedding was filled with special moments we cannot begin to write them all. We do want to mention one though: Jeff's interpretation of Magic Mike for the garter removal – hilarious!
By the end of the night everyone had forgotten the cold weather and spent the evening dancing away to familiar songs. Laura and Jeff were adorable and their family and friends certainly made them feel loved. We wish them a long, happy marriage with lots of laughs and lots of love!