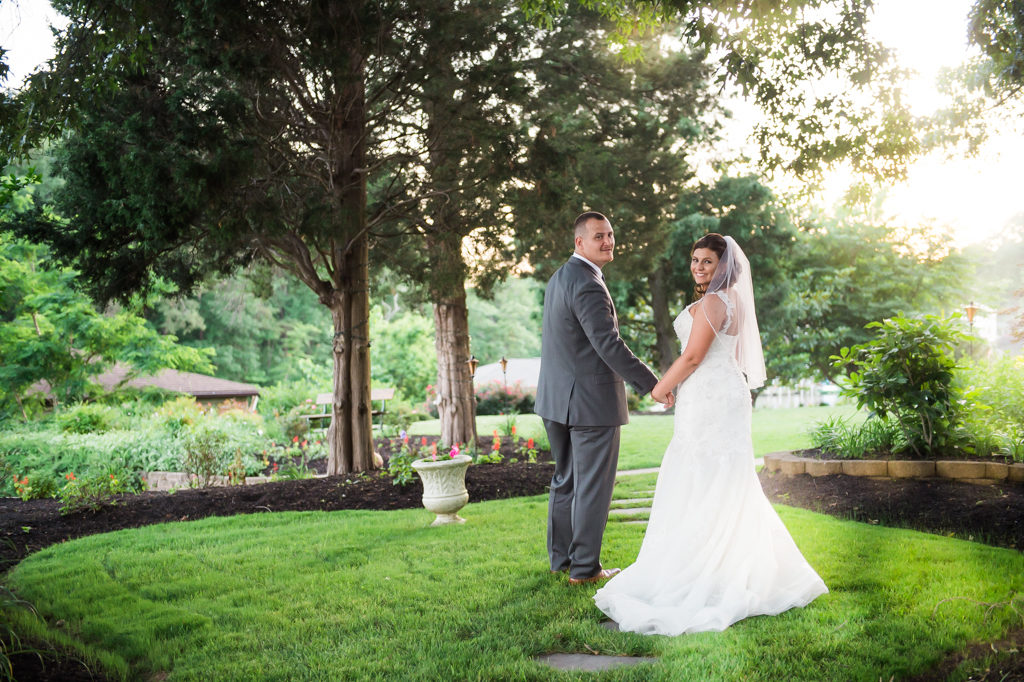 "We loved with a love that was more than love." ― Edgar Allan Poe
Jenna and Tony's Baltimore Wedding took place on a beautiful Summer Saturday at the gorgeous venue, Bleues on the Water.
Every once in a while, we are treated with the most laid-back couple whose goal is to maximize the FUN at their event. Jenna and Tony are the true definition of that client! From their Baltimore Engagement Session we already knew that their wedding was going to be a blast! We also immediately learned of their love for the city –  Ravens football and Federal Hill, you can't get more Baltimorean than that! However, their wedding took that adoration to the next level.
While Jenna was getting ready, the room was filled with many emotions. Joy: when she read a tear-jerking letter from Tony. Sadness: when she was presented with her bouquet adorned with a cross in remembrance of her brother. Pride: when she was revealed to her father. And, Excitement: when her bridesmaids first laid eyes on her. Jenna stunned with the elegant, corset back and strapped dress.
The Groom preparations, lets just say, were a lot more cool. All taking place on a boat, Tony and his boys dressed, drank beer, and smoked cigars. Then made a grand entrance on Bleue's dock via Chesapeake waterways.
The ceremony officiant was famous Baltimore radio 98 Rock comedian Justin Schlegel. He made the entire crowd laugh as he married Jenna and Tony!
After the ceremony we walked the couple around the venue's waterfront property for their wedding photographs. Their venue choice Bleues on the Water was honestly quite charming. It was our first time at this venue and we cannot wait to return.
As soon as you walked into the reception site, elements of Baltimore were reflected EVERYWHERE! Centerpieces depicting famous Baltimore streets, etched crab mallets as wedding favors, decorated Old Bay cans accenting tables, commemorative themed koozies, a National Bohemian themed photo booth, and even a Maryland shaped wooden guestbook. This couple did not miss a detail!
To heighten the celebration even further, after they cut their own wedding cake, Jenna and Tony presented Tony's Grandparents with a specially made personal cake to mark the 60th anniversary of their marriage together. Amazing!
Can you sense how lively this celebration was? Cheers to this merry couple! It was a blast working with you.

Jenna & Tony's Baltimore Wedding
Maryland, Washington, DC and New York City Photographers – Love Charm Photo
Wedding Hashtag: #legambiagreatnight
Venue: Bleues on the Water bleuesonthewater.com/
Officiant: Justin Schlegel from 98 Rock Radio
Tux: Men's Warehouse
Dress: Bridals by Elena http://www.bridalsbyelena.com/
Hair: Brooke St. Martin
Make Up: Melanie Ingram https://www.facebook.com/SHINE-LLC-Beauty-Wellness-Studio-260862
DJ: Mike Smith Entertainment
Cake: Kelly Sokolis at La Cakerie http://lacakerie.com/
Flowers: Feel Good Flowers www.feelgoodflowersllc.com
Videography: RL Productions LLC http://www.rlproductioncrew.com/
Wedding Planner: Kurt Flenner of La'Fontaine Bleu
To learn more about our wedding photography, engagement or portrait sessions visit our FAQ page. If you'd like to book a photo session with Love Charm Photo, please send us a message or call us at 301-848-0020. We'd love to chat with you! Thanks so much for visiting our site!
All Photos Copyright © Love Charm Photo. All Rights Reserved.